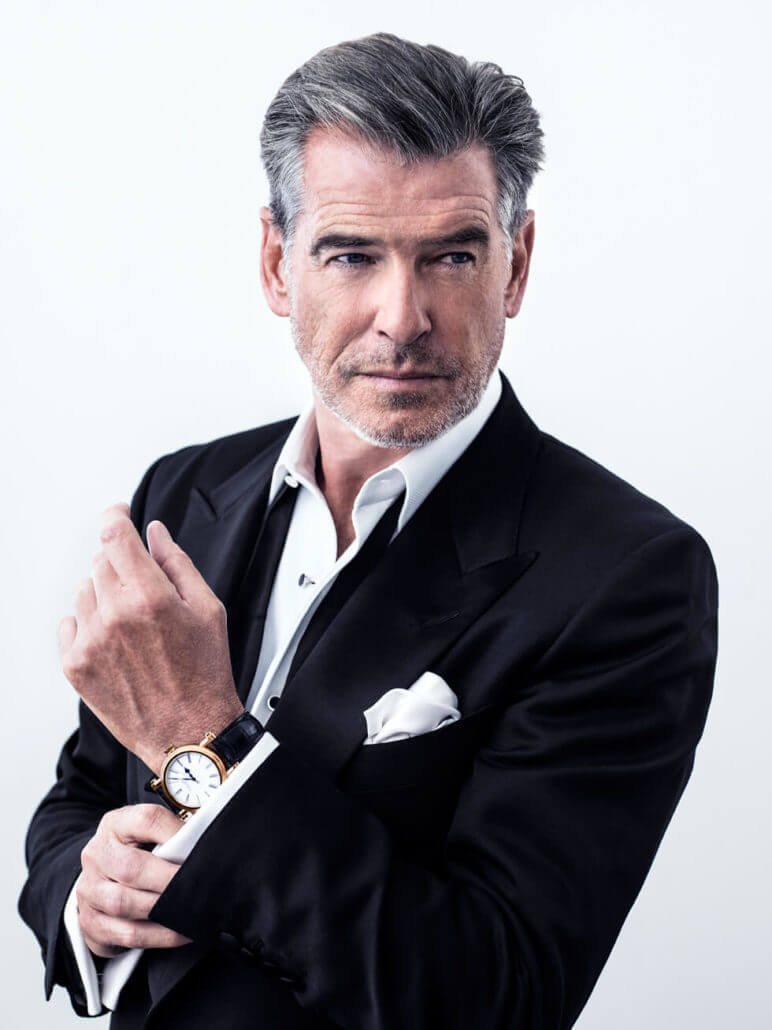 Pierce Brosnan is a legendary Irish-American actor, film producer, environmentalist, philanthropist, artist and two-time Golden Globe Award nominee known for his rich and extensive career in front of the camera and behind-the-scenes as a producer.
This summer, Brosnan reunites with Meryl Streep, Colin Firth and Amanda Seyfried in the Universal film Mamma Mia: Here We Go Again, the sequel to the blockbuster film Mamma Mia! He also stars in Season 2 of the AMC's series The Son. Based on the Philipp Meyer novel of the same name about the rise and fall of a Texas oil family, the series which launched in 2017 was an immediate hit with audiences. He also stars in in the action thriller Final Score alongside Dave Bautista for director Scott Mann.
Most recently, audiences saw Brosnan star with Guy Pearce and Minnie Driver in the thriller Spinning Man; alongside Jeff Bridges and Kate Beckinsale in Marc Webb's The Only Living Boy in New York and with Jackie Chan in the action thriller The Foreigner for director Martin Campbell.
Previously, Brosnan starred in the thriller I.T. produced by his production company, Irish DreamTime, alongside Voltage Pictures and Friendly Films and in the thriller No Escape alongside Owen Wilson and Lake Bell and Survivor with Milla Jovovich for director James McTeigue. He also produced and starred in the espionage thriller The November Man, directed by Roger Donaldson, which premiered at the Deauville Film Festival. Based on a series of books by Bill Granger.
Brosnan co-starred in A Long Way Down with Aaron Paul, Toni Collette and Imogen Poots, which premiered at the Berlin Film Festival; in Love Punch with Emma Thompson, which premiered at the Toronto Film Festival; and in Love Is All You Need for Academy Award winning Danish director Susanne Bier. The film premiered to critical acclaim at the Venice Film Festival and the Toronto International Film Festival. Brosnan also appeared in a surprise cameo in The World's End with Simon Pegg and Martin Freeman.
Brosnan's film credits include I Don't Know How She Does It (2011) alongside Sarah Jessica Parker and Greg Kinnear; Salvation Boulevard (2011) with Greg Kinnear, Ed Harris and Jennifer Connelly; Percy Jackson & The Olympians: The Lightning Thief (2010) based upon the best-selling novel by Richard Riordan; Roman Polanski's critically acclaimed film The Ghost Writer (2010) with Ewan McGregor which premiered at the Berlin Film Festival and for which Brosnan received the award for Best Actor in a Supporting Role in a Feature Film from the Irish Film and Television Awards; Remember Me (2010) with Robert Pattinson; The Greatest (2010) with Susan Sarandon and Carey Mulligan which premiered to rave reviews at the Sundance Film Festival; the worldwide blockbuster film adaptation of the Broadway hit Mamma Mia! (2008) opposite Meryl Streep; Married Life (2007) in which he starred with Rachel McAdams, Patricia Clarkson and Chris Cooper for director Ira Sachs; the Civil War drama Seraphim Falls (2007) in which he starred opposite Liam Neeson; The Matador (2005) for which he received a Golden Globe Award nomination for Best Performance by an Actor in a Motion Picture and a nomination for Best Actor in a Lead Role from the Irish Film & Television Academy; John Boorman's critically acclaimed film from the novel by John LeCarre, The Tailor of Panama (2001); Sir Richard Attenborough's Grey Owl (1999), Dante's Peak (1997); Mars Attacks (1996); The Mirror Has Two Faces (1996) alongside Barbra Streisand; Mrs. Doubtfire (1993) with Robin Williams; The Lawnmower Man (1992) and Bruce Beresford's Mr. Johnson (1990).
In the 1990s, Brosnan reinvigorated the popularity of the Bond franchise in box-office blockbusters including Goldeneye (1995), Tomorrow Never Dies (1997), The World Is Not Enough (1999) and Die Another Day (2002). Brosnan's first three Bond films earned over a billion dollars at the international box-office and Die Another Day alone garnered nearly half a billion dollars worldwide.
In addition to his work in front of the camera, Brosnan has long had a passion for the art of filmmaking. Having achieved international stardom as an actor, Brosnan expanded the range of his film work by launching his own production company, Irish DreamTime, in 1996, along with producing partner Beau St. Clair.
Irish DreamTime has produced 11 films to date including I.T. (2016); The November Man (2014); Some Kind of Beautiful (2014); The Greatest (2010); Shattered (2007); The Matador (2005); Laws of Attraction (2004); Evelyn (2002); The Thomas Crown Affair (1998); The Match (1999); and The Nephew (1998). The company's first studio project, The Thomas Crown Affair, was a critical and box-office success and one of the best-loved romantic thrillers in years. Evelyn, directed by Bruce Beresford, opened to critical acclaim at the Toronto and Chicago Film Festivals and garnered rave reviews.
In November 2016, the European Film Academy presented Brosnan with the honorary European Achievement in World Cinema Award. Some of Brosnan's other accolades include the 2015 Forces for Nature Award bestowed by the Natural Resources Defense Council, the 2011 Caritas Award from St. John's Health Center Foundation for Brosnan's extensive community service, and the 2007 Golden Kamera Award for his environmental work. In 2003, Brosnan was awarded an Honorary Doctorate of Arts from the Dublin Institute of Technology, an Honorary Doctorate from the University College Cork, and an Order of the British Empire bestowed by Her Majesty Queen Elizabeth II. For over two decades, Brosnan has been an ambassador for His Royal Highness Prince Charles The Prince's Trust as well as an Ambassador for UNICEF Ireland. Brosnan also serves as Campaign Chairman for the Entertainment Industry Foundation.
In addition to his stellar film career, Brosnan, along with his wife Keely Shaye, have been drawn into a passionate leadership role in numerous environmental issues. Most recently, the two worked together on the documentary film Poisoning Paradise which they co-produced. The film takes audiences on a journey to the seemingly idyllic world of Native Hawaiians, whose communities are surrounded by experimental test sites for genetically engineered seed corn and pesticides. To date, Poisoning Paradise has screened at over 30 prestigious film festivals across the United States and abroad, including London; Bologna; Los Angeles; San Diego; Mendocino; Napa Valley; Maui; St. Louis, Missouri and Savannah, Georgia. The film has won 11 awards – many for Best Documentary – and was been accepted into the 2018 International Film Festival and Forum on Human Rights in Geneva, the Manchester Film Festival in England, and the London International Filmmaker Festival, among others. This month, the film will screen in the market at the Cannes Film Festival where it will be sold for worldwide distribution.
Exhibiting another side of his artistic talent, Brosnan is an avid painter. The actor, who went to art school and trained as a commercial artist, has painted numerous landscapes as well as colorful portraits of friends and family. Brosnan cites Picasso, Matisse, Bonnard and Kandinsky as influences on his work. An exhibition of his paintings is in the works for later this year.
Brosnan was born in County Meath, Ireland and moved to London at age 11. At 20, he enrolled in The Oval House and continued his studies at The Drama Center in London. After graduation, Brosnan performed in several West End stage productions including Franco Zeffirelli's Fulimena and Tennessee Williams' The Red Devil Battery Sign at the York Theater Royal. Brosnan relocated to Los Angeles in 1982 and immediately landed the role of private investigator Remington Steele on the popular NBC television series of the same name.